AFCA Recognizes Oklahoma State as 1945 National Champion
Oklahoma State has been retroactively named as football national champions of 1945 by the American Football Coaches Association, it was announced today.

At the request of multiple schools, the AFCA established a panel of national championship coaches to retroactively select Coaches' Trophy winners from 1922 (when the AFCA was founded) up to 1949 (the year before the Coaches' Poll was first published). That panel of coaches took information submitted by schools who felt they were worthy of consideration and used that data in the research and selection process.

"After gathering all the pertinent information and doing our due diligence, it is the pleasure of our panel of coaches to officially recognize Oklahoma State's 1945 championship season with the AFCA Coaches' Trophy," said AFCA executive director Todd Berry.

The Oklahoma State squad of 1945 (then-referred to as Oklahoma A&M) had an average margin of victory of 23.2 points and still hold numerous school records, including fewest points allowed, lowest average points allowed, fewest first downs allowed, fewest rushing yards allowed and fewest yards allowed per game. The 1945 squad also ranks in the top 10 in several more offensive and defensive categories, all of which is remarkable considering that season was played 70 years ago.
Read More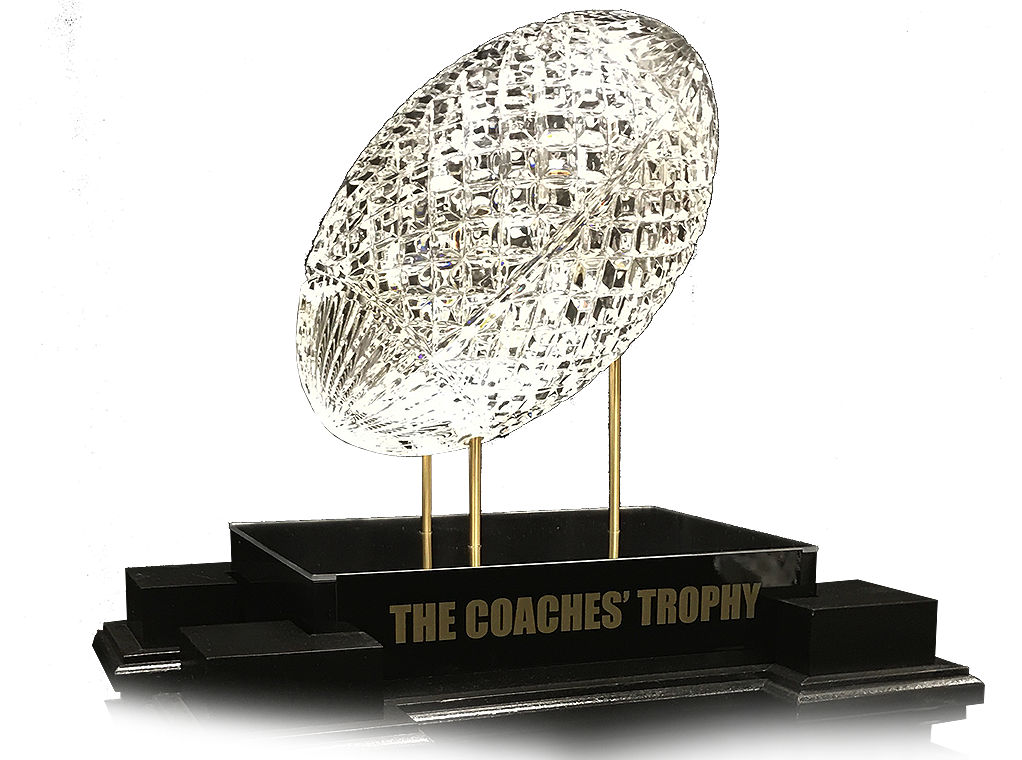 Coached by Jim Lookabaugh, the 1945 Oklahoma A&M roster included seven veterans of World War II. Bob Fenimore was a consensus All-American who led the nation in both rushing and total offense and also ranked in the top 15 nationally in rushing yards, passing yards, scoring and punting. Teammate Neill Armstrong also earned All-America status that year by the Associated Press.
Oklahoma A&M's (now Oklahoma State) 1945 season ranks as the best in history of the school, as well as one of the best in the history of college football. The Aggies (now Cowboys) put together a perfect 9-0 record, were led by the most dominating college football player in the country, won a conference championship and ended the season with a dominating 33-13 Sugar Bowl win.

Perhaps the most remarkable part of the Aggies' perfect season was the play of All-American Bob Fenimore, affectionately known as the "Blond Bomber." Fenimore excelled on the offensive side of the ball, the defensive side of the ball, and on special teams, earning unanimous All-America honors for his performance, and later becoming a first overall NFL-draft pick and a member of the College Football Hall of Fame.

Fenimore's play was legendary and the numbers speak for themselves. In OAMC's undefeated 1945 season, he was the national leader in both total offense (1,641), and rushing (1,119), while ranking seventh in punting (39.0), and 13th in scoring (72). He surpassed the 100-yard mark in seven of the nine games he played that season and he still holds at least five school records at Oklahoma State today.

With Fenimore leading the way, the Aggies put together a season that is undoubtedly worthy of a national title. The Aggies opened the year on the road with contests at Arkansas and then at Denver. In fact, the Aggies played their first five games of the season away from their home field in Stillwater. A neutral-field contest with SMU and trips to Utah and TCU followed, but OAMC came out on top in each of those contests.

When they finally did play their first home game, the Aggies were met with the 5-1, highly-ranked Tulsa Hurricane, but again came away with the victory. OAMC finished the regular season in peak-form, first handling Texas Tech to the tune of a 46-6 win and then dominating rival Oklahoma with a 47-0 victory in Norman.

After going 8-0 in the regular season behind Fenimore's stellar play, the Aggies earned an invitation to the Sugar Bowl to face a talented group from St. Mary's. In their final test, the Aggies blew out a talented opponent by a final score of 33-13.

The 1945 Aggies team finished 9-0, winning by an average of 23.2 points. The squad still holds numerous school records today, including fewest points allowed, lowest average points allowed, fewest first downs allowed, fewest rushing yards allowed and fewest yards allowed per game. It also ranks in the top 10 in several more offensive and defensive categories, all of which is remarkable considering that season was played 70 years ago.
Sugar Bowl Champions
One year after Oklahoma A&M dominated TCU in the Cotton Bowl, the Aggies completed an undefeated season by topping St. Mary's, 33-13, in the 12th annual Sugar Bowl Classic.

Bottom Row (L-R): Thurman Gay, Glenn Moore, Jim Reynolds, J.C. Colhouer, Terry Monroe, Alex Loyd, Joe Shunkamolah, Bert Cole, Holly Pearce
Second Row: Wayne Weaver, Jean Fitter, Carl Jackson, Orville Makintubee, Otis Schellstede, Bill Grimes, Neill Armstrong, Bob Fenimore, Franklin Spruiell, Joe Thomas, John Carey, Bill Long
Third Row: End Coach Toby Greene, Don Van Pool, Nate Watson, Clarence Tully, T.W. Ledbetter, Afton Kelly, Jim Parmer, Bob Hargrove, Sam Bratcher, Mack Creager, J.D. Cheek
Fourth Row: Head Coach Jim Lookabaugh, Bob DeMoss, Sammy Howell, Bob Faucette, Cecil Hankins, Gene McDaniel, Don Wiebener, Donnie Williamson, Bob Meinert, George Ivie, Line Coach Al Paddock
Top Row: Backfield Coach Jack Baker, Fred Lang, Bill Wilson, Howell Tait, Harvey Griffin, Ross Duckett, Maurice Brewton, Steve Bakajza, Burl Bartlett
Fenimore, Armstrong Led Undefeated Powerhouse
On New Year's Day, 1946, Oklahoma State (then Oklahoma A&M) scored a 33-13 win over St. Mary's of California in the Sugar Bowl to cap the only undefeated season in school history.

Coached by Jim Lookabaugh, Oklahoma A&M was the bigger and more experienced squad, but St. Mary's countered with a flashy offense rooted in deception that helped to mitigate the Aggie advantage. Both teams had All-Americans, with Bob Fenimore and Neill Armstrong leading Oklahoma A&M and Herman Wedemeyer leading St. Mary's.

"We may have been the best team in the country that year," Armstrong said. "We had a couple of All-Americans and a group of veterans who kept us in check. In practice, we scrimmaged every day. As hard as those scrimmages were, it's a wonder that we had anything left for the games, but those scrimmages toughened us and made us better. We had a lot of older guys who had fought in the war and understood that you don't win anything unless you do it as a team.

"Our mindset going into the Sugar Bowl and in general was that you better work hard if you're going to gain anything," Armstrong added. "We didn't mind getting hit and we didn't mind hitting other people."
As Armstrong referenced, with World War II ending less than a month prior to the start of the season, Oklahoma A&M's roster included seven war veterans who went head-to-head against a St. Mary's squad that had an average age of 18 ½. The Gaels had seven 17-year-olds in the starting lineup.

Not only did the A&M roster feature war veterans, but it also had its share of football veterans who were key figures on the 1944 squad that finished 8-1 and won a major bowl game the year prior – an experience that Armstrong said was a contributing factor to the team's Sugar Bowl success.

"We played in the Cotton Bowl the year before and we knew what a big, important bowl game was like," Armstrong said. "We knew what to expect. Coach Lookabaugh got everyone ready. I give a lot of the credit for the Sugar Bowl win to the coaches because of how they prepared us."

Even still, it was St. Mary's who got on the board first when Wedemeyer took a handoff on a reverse, then found Dennis O'Connor downfield for a 46-yard touchdown pass.

The Aggies answered when Fenimore hit Cecil Hankins on a post route for a 29-yard touchdown pass, then took the lead on the back of a bruising one-yard run off the right tackle by Fenimore.

On the very next possession, Wedemeyer dashed for 24 yards, then lateralled to guard Carl DeSalvo, who took the ball the final 20 yards into the end zone. That play was indicative of the style of offense that St. Mary's ran. This description of Wedemeyer and the Gaels came from Hal Middlesworth of the Daily Oklahoman newspaper:

"(Wedemeyer) was the key man in practically every play, many of which pulled in from three to five players to handle the ball. On one play, for instance, Wedemeyer passed to end Ed Ryan, who lateralled to O'Connor, who lateralled to tackle Al Beasley – all of which was good for 33 yards. It shows what the Aggies were up against."

Not only did St. Mary's flashy style of play keep it in the game during the first half, but it won over the sizable crowd in New Orleans, with many of the neutral observers gravitating toward Wedemeyer and the undersized but feisty and entertaining Gaels.

"Wedemeyer was good," Armstrong said. "They weren't a big team at all, but we knew that we had to make sure we didn't let him into the secondary or else we wouldn't catch him.
The second half was controlled by the bigger and more physical Aggies.

With just one point separating the two teams coming out of the break, Fenimore made a game-changing play when he returned a punt to the St. Mary's 6-yard line to set himself up for another punishing one-yard touchdown run four plays later for the only score of the third quarter.

"Fenimore one of best I've ever seen," Armstrong said. "He could run the ball and throw it. We'd take the run to the strong side and then run him back to the weak side. He had all the ability, all the speed and all the moves. He could really run."

Perhaps the most important play of the game came in the fourth quarter, when Wedemeyer slipped while trying to punt and missed the ball completely. Armstrong and Aggie teammate Terry Monroe recovered the miscue at the St. Mary's 35-yard line and Oklahoma A&M opened up a 25-13 lead when Jim Reynolds muscled his way in for a one-yard touchdown run on the ensuing possession.

The Aggies added another touchdown late to seal their win.

St. Mary's coach Jim Phelan summed it up like this after the game – "Too much power, too much speed. And above all, too much Fenimore."

Armstrong said Phelan's assessment of the game was accurate, then he added to it.

"Our coaches worked us hard and prepared us for the razzle-dazzle of St. Mary's and we were ready for them," Armstrong said. "The coaches instilled a confidence in us because we knew if we carried out our responsibilities and stuck to our assignments, then we'd win the game."